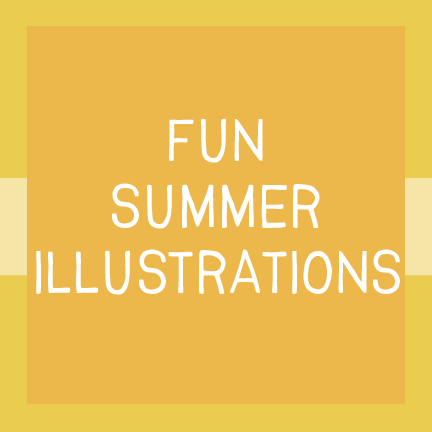 Fall and Spring will always be my favorite seasons with Summer coming in third place. But after a cold Winter with bitter wind and frigid mornings of scraping ice from windshields nothing seems more glorious than Summer months.
So, when Summer rolls around I'm more than ready for a little sand between my toes, which might be apparent in this beach clip art set:
The ocean is one of my happy places and I'm beyond thankful that we live close enough to the coast so we can spend many Summer days at the beach. When creating this fun Beach Clip Art set I tried to capture the joy my own children experience during our trips to the beach. From running in waves, floating on boogie boards, building sandcastles, and listening to sea shells I think the true essence of a day at the beach was captured. This set would be great for flyers, worksheets and more. 
After an hour or two on the beach my kiddos are always ready for the pool. While the beach is my happy place the pool is my boys happy place and I can't argue with that. So, we always end up at the pool and spend hours floating along, splashing around and just making fun Summer memories.
This Swim Kids Clip Art set was so much fun to make. How fun is the boy performing a cannonball into the pool or the girls playing in the pool? These would look great on Summer related flyers for local pools and more. 
My favorite Summer Clip Art  of all time is the Summer Kids Clip Art set: 
With this fun Summer Clip Art  set I wanted to re-create my own childhood memories from catching fireflies, drinking from the water hose,  running through a sprinkler and more.
I hope the creativity in these sets help you to decorate your Summer projects, bring to life past childhood memories, capture your audiences attention and more.